Taxi Services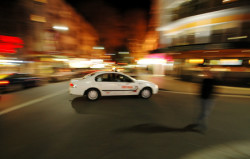 Calling a taxi service you're not familiar with may feel like a gamble because not all taxis in Troy have the same quality standards. But, at Black & White Taxi, we know exactly what customers are looking for and we go out of our way to provide it. Not only do we make it our business to be prompt and punctual when you call us for a ride, but we also make it a point to keep our fares affordable. Whether you need dependable airport taxi service or transportation to a doctor's appointment, you never have to worry about being late when one of our drivers is at the wheel! With over 60 years of experience providing taxis in Troy, we know how to manage the details of getting you to your destination on time.
If you're looking for taxi cab service right now, give us a call. We'll be there before you know it. When you choose Black & White Taxi to get you around in Troy and other nearby cities, you can expect efficiency and professionalism from all our drivers. From the time you call us until the moment we drop you off, we'll do our best to make your ride relaxing, convenient, and stress free. 
We bring you:

24-hour availability

Fair pricing

Well-maintained, clean vehicles

Prompt pickups and drop-offs

Fleet of 18 sedans and 3 vans

Trained, courteous drivers

And so much more

Our family-owned business takes pride in our reliable service and well-maintained vehicles—two of the many qualities that set us apart from other taxi services in the Capital District. As one of the largest and most established taxi cab services around, we have the ability to provide immediate pickup service and competitive taxi fares. Our objective is not only to get you where you're going safely and comfortably, but we also hope to earn your future business. We're flexible enough to provide either local taxi service or transportation to virtually anywhere in the region. You can count on us for one-way trips, round trip taxi service, and several other options tailored to your specific needs. So from providing a taxi in Latham to being your taxi in Cohoes, we have you covered. Pick up your phone and call now!

Airport Taxi Service & More

In addition to our standard taxi cab services, we can also accommodate corporate accounts and groups of up to seven people. Feel free to inquire about our sedans, minivans, and airport taxi service. We're also the ideal choice for getting to and from concert venues, sports arenas, and train stations. We're never closed, and we can take you to NYC, across town, or to a neighboring state.

Give us a call today to see how we can serve you! We are your answer for a taxi in Troy.

taxi cab service
taxi service
airport taxi service