Car Service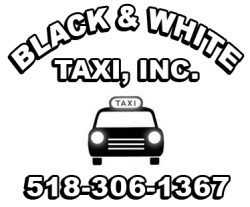 Are you looking for a high-quality car service in Troy that doesn't charge exorbitant fares? Whether you need transportation to a concert, a sporting event, or Albany International Airport, give us a call to reserve one of our spacious sedans. We're also available for airport car service to New York City, Boston, and other cities in the Northeast. By choosing Black & White Taxi, you get access to prompt, courteous car service that meets all your requirements without stretching your budget. With our fleet of 18 sedans and 3 minivans, we're ready to respond to your transportation needs at a moment's notice. Our drivers have the experience and professionalism to provide you with that extra value you look for in a quality town car service, so call us today for a prompt pickup or to arrange transportation for a future event.
As one of the oldest family-owned car service providers in Troy, we take pride in our attention to detail and high standards. We make it a priority to keep our vehicles immaculately clean and well maintained, and you can always count on us to be on time. After being in business for more than 60 years, you can be sure we're one of the most efficient, well-run car services in town.
We provide a wide range of transportation options, including one-way rides, round trips, and all-day service. Whether you need a ride across town for an appointment or car service to Saratoga for the races, our goal is to always make your experience with us 100% positive. If you're looking for the perfect balance between quality and economy, Black & White Taxi is the answer for both personal and executive car service. For our business customers, we also offer the convenience of establishing a corporate account. Contact us to find out more!
Town Car Service in Troy
In addition to our versatile airport car service, we're also available to provide executive car service, transportation to special events, and day trips to regional attractions. If you're planning an evening at the theater, an anniversary celebration, or just a special night out on the town, why not turn the driving responsibilities over to our pros at Black & White Taxi? Our town car service can make your evening a little more luxurious, without adding too much to the price tag. 
Our dedication to customer satisfaction comes through in every aspect of our town car service in Troy. Call us today to see how we can serve you.
town car service
airport car service