Airport Shuttle Services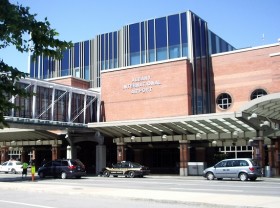 Are you looking for a dependable airport shuttle to take you to or from Albany International Airport? Whether you need to be picked up at a local hotel or the baggage claim area at the airport, we can provide you with prompt and affordable shuttle service for one passenger or groups up to seven people. For your convenience, we also provide our airport shuttles to JFK International Airport, LaGuardia Airport, and other airports in the Northeast. For immediate shuttle service or to schedule a pickup in the near future, give us a call today at Black & White Taxi in Troy.
With over 60 years of experience providing airport transportation for local residents and visitors, Black & White Taxi is one of the oldest and most established shuttle services in the area. As a family-owned and -operated business, we take pride in our superior customer service, as well as our spacious and well-maintained vehicles. When you need to get to the airport from Troy, you'll be pleased with our competitive prices and our courteous, well-trained drivers. We'll safely navigate the roadways while you sit back and relax. Our objective is not only to get you to your destination on schedule, but also to provide you with a smooth and stress-free ride in our spacious airport shuttle vans and sedans.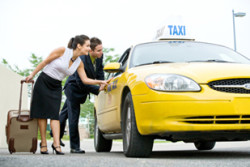 If you've just arrived at the Albany airport, the last thing you want to do is wait around at the baggage claim area for a shuttle service to show up. When you choose Black & White Taxi, you can avoid that inconvenience. We provide prompt airport pickup service, and we'll make sure to keep your waiting time to an absolute minimum. You can also count on us for reasonably priced airport-to-airport shuttle service. When you're on a tight schedule and have to catch another flight at JFK or LaGuardia, our conscientious drivers will make sure to get you there on time. Perhaps you need to get to the Albany airport from Troy to catch a plane in a couple hours. If so, give us a call and we'll send a car or airport shuttle right over.
Airport Car Service Available
Our fleet of vehicles includes 18 sedans and 3 minivans, so we have the resources to provide you with the quality transportation you deserve when it comes to an airport shuttle to Albany, NYC, and beyond. Don't forget: we offer airport car service for executives and would be pleased to set up a corporate account for your company. Contact us for more details. When you want everything to go just right, the name to remember is Black & White Taxi.
airport shuttle
airport limousine service
airport limo service
airport transportation service