Services Offered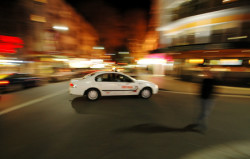 If you need taxi cab service, we have good news: Black & White Taxi offers the high quality and affordable prices you're looking for. As an established, family-owned car service in Troy, we work hard to provide the superior transportation you expect and deserve. When you consider our competitive prices, our commitment to customer satisfaction, and our long history in the taxi services business, we think you'll agree we're the best value in town! Take a look at the many advantages of choosing Black & White Taxi for your local, long-distance, and airport taxi service needs.
Prompt Airport Shuttle & Taxi in Troy
After being in the taxi service business for over 60 years, we know the importance of being on time, all the time. Whether you're meeting friends for dinner, attending a business meeting, or catching a plane, you can always count on our drivers to be punctual and dependable. We have the available vehicles and trained staff to dispatch the taxi service or airport shuttle you need in a timely way. You can rely on us for immediate airport pickup service, prompt taxi service in and around Troy, and professional drivers who will take you on the most efficient route to your destination. Call us now for fast response time and minimal waiting.
Affordable Car Services
As a local taxi cab service that's committed to providing customers with superior value, we take it upon ourselves to keep our prices competitive and affordable. That pricing policy applies as much to our town car service in Troy as it does to our airport pickup service. Since affordability is one of the main requirements of our airport shuttle and taxi service customers, we make it one of our top priorities, as well.
Customized Transportation Services
When it comes to getting taxi service in Troy, a prompt airport shuttle to Albany, or top-notch town car service, we don't believe that one size fits all. That's why we offer the public as many options as possible, including one-way trips, round-trip transportation, and airport-to-airport shuttle services. With a well-maintained fleet of 18 sedans and 3 minivans, we have the vehicles and drivers on hand to provide you with prompt and dependable service!
When you need a ride in Troy or the region, give us a call. We're standing by 24 hours a day to provide you with the local taxi service you deserve.